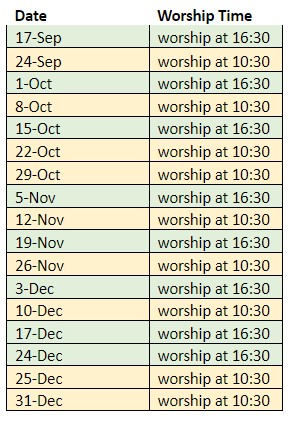 The International Church of Copenhagen is an inclusive, multicultural congregation learning to live well with God and with each other.
You are very welcome, whoever you are, just as you are.
We are Christ-centered, English-speaking, and ecumenical.
What to expect
Before the service, there is an opportunity to participate in a discussion of the texts appointed for the day, led by the pastor. Bibles are available and we read the text together, so no preparation is needed!
Our Sunday worship includes Holy Communion, the Word preached and read, and prayers. We practice Communion with an open table – all are welcome! You can also choose to receive a blessing instead of Communion if you prefer.
We also participate in the World Council of Churches Ecumenical Prayer cycle, praying for all the regions of the world over the course of the year, as well as offering up the prayers of our own local community. The music in our services include familiar hymns and praise music from around the world.
Children are very welcome to remain with their families in worship. We also offer a nursery for little ones, as well as Sunday School for children and youth during the worship hour.
After the service, please join us in the fellowship hall for conversation, coffee, tea and snacks!